We all look at certain characters within games and just think "Damn, that is one badass mother-…!" These are the characters we wish we could be, the cool kids, the legends! They seem to have this special aura surrounding them, an authority that allows them to do whatever the hell they want and no one can stop them. Here is our list of the most badass playable characters.
Lu Bu – Dynasty Warriors series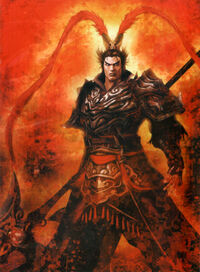 "I… I… It's… Lu Bu!" is the cry you hear when he turns up to wreck your day. The man who can bring down entire armies single-handedly, all while mounted on top of his trusty Red Hare. A warlord with such a short fuse, killing everyone, even his allies.
On the Battle of Hu Lao Gate he manages to keep the allied forces at bay on his own, with generals telling you to not fight him. Make sure you dodge his musou otherwise it'll be game over for you.
Trevor Philips – Grand Theft Auto V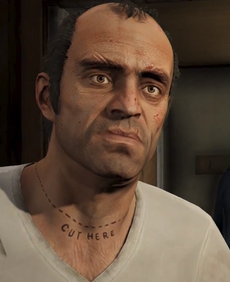 The complete nut job that is Trevor. The mentally unstable character who loves a good violent outburst or two. He owns a 'legitimate' company by the name of "Trevor Philips Enterprise" which deals in the creation of Meth and Gun Distribution. He wipes out his competition by killing the redneck family of the O'Neil's and blowing up their house plus meth lab in the process.
He proceeds to kidnap a feared Mexican Mob Bosses wife and fall in love with her, steal from the Merryweather Security Consulting and enjoys torturing people. This is why we love him.
Master Chief (Petty Officer John-117) – Halo series
A man of very few words, he is never seen without his legendary armour. Master Chief, a Spartan-II super soldier. The name just echoing how badass he is. He is also known to the Convenant as the 'Demon', so he must be doing something right. With the use of his Battle Rifle, Master Chief becomes humanity's saviour.
Even though he gets himself into some crazy situations, he always seems to come out on top. This never say die attitude has also gained him a place as one of the most iconic and loved characters ever created.
Kratos – God of War series
Here is a character who has the ability to slay Gods, yes Gods! Kratos is an extremely violent being, not just killing his victims but obliterating them. Kratos was given the Blades of Chaos by Ares in his hour of need, giving him supreme power and leading him to blindlessly follow Ares. He ends up being relentlessly determind on destroying the Greek Gods after Ares tricks him into killing his own family.
Kratos' iconic white skin is down to him killing  his own family, he has been cursed to wear their ashes to remind him of his terrible deed. How many characters can add Zeus, Poseidon or Ares to a list of their victims? This man is a force to be reckoned with.
Solid Snake – Metal Gear Solid series

Known as 'the man who makes the impossible possible", Solid Snake saves the world from nuclear catastrophe not once, but 3 times! One of the, if not the best special agent you could ask for. We have a deep love for him as we have seen him rise from the rookie ranks to his retirement aged, eye patch wearing self. Even at his advancing ages he still seems to be able to get the job done.
Do you agree with us? Would you change one of them for someone else, or change the list completely? Let us know.